Localization service
Would you want your product sold in Japan?
Attain Corp. supports overseas venture companies and start-ups in their efforts to enter the Japanese market.

It is not easy for overseas companies to launch their products or web services in the unique business environment of Japan. Such companies seeking their expansion of business will face various obstacles in Japan, such as a unique business culture, complicated logistics channel, high fixed costs such as labor and rent fee, demand for high quality and customer support, branding costs, and many more. Even if you are launching web services, everything needs to be in Japanese, from news release to running social media SNS, promotion videos, events, and most importantly, customer support.
There are many existing companies in Japan that support overseas companies to expand their business in Japan. However, they may not catch the needs of such entrepreneurs. Often, the support service is mainly about consulting aiming IPO, introducing alliance partners, or financing.
In light of such circumstances, Attain will start a new service aiming to support the actual tasks of companies starting up businesses, using our rich knowledge and experience.
Attain has a long experience of partnerships with overseas companies through localization of software.
We have ample experience and achievements in the domestic business through our customer solution center, incorporating the latest CTI system. Here, we act as telemarketing in corporate sales, supporting from marketing research to customer development, receiving/placing orders, and user support.
We also have experience in providing support for tasks related to networking, such as building office network or internet server, development of web applications, and streaming services. In addition, we constantly research many social media sites and YouTube to stack more know how about branding and customer acquisition.
Are you considering entering the Japanese market?
Using our rich experience with overseas companies, services and so on, not only do we do consulting and outsourcing services, but also provide service in every aspect of sales activity, which is the biggest feature of Attain's support for overseas companies expanding into Japan.
In terms of the company support into Japan, we plan to utilize Attain's abundant business menu and experience/ know-how. In depth, we will use Attain's sources setting up a business base, providing communication infrastructure equipment, network construction infrastructure equipment, network construction, system construction, website construction, web content production, marketing support (including YouTube channel production support as well as running social media), market development, sales support, ordering and receiving, to user support to support global companies in a nutshell.
With these backup, overseas companies would be able to focus on the important places, making a smooth entry into the Japanese industry.
Localization service in Attain Corporation
A variety of localization while expanding your business to Japan and foreign countries
Multilingual localization of software Chinese, English, Korean ect.
Multilingual localization of web/Site construction, webpage language change etc.
Localization of e-learning/streaming distribution of videos
Others     Please feel free to contact us
Merit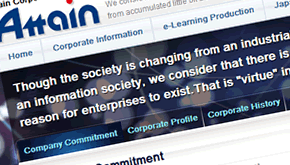 It is a native staff member who translates and double checks, so we can assure the quality of our work.
We have a high skilled production team equipped with rich IT knowledge, so we can accomplish the work in a short delivery-date.
We have our own studio, so we can not only carry out translation, but also provide a consistent service from recording to editing.
Workflow

(If only translating the text)

Submit data
Localize
the
digital contents
Translate the website
Cording
Translation Field

Software translation
Products
Company Homepage
e-learning contents

Price List

Please contact us
Contract
Attain Corporation
Sakai building, 2-19-8, Kandasuda-chou, Chiyoda-ku, Tokyo, 101-0041 Japan
TEL:03-3255-4721 FAX:03-3255-5680
[WebSite] https://www.attainj.co.jp/ [E-mail] info@attainj.co.jp

info@attainj.co.jp
If you have any question or request, please contact us.