Trust Attain Corporation for Expanding Your Business to Japan
Would you want your product sold in Japan?
Attain Corporation is a widely known and reliable company working on
E-learning/Internet Service/ SCORM /Packaged software/Education software.

Meanwhile, Attain Corporation has developed a business of supporting foreign companies entering the Japanese market and long-term localization. Attain is acting as an entrance for foreign products being introduced to Japan.
Since 1992, the year Attain was founded, Attain has been doing its best on supporting foreign companies entering Japan and the localization of foreign products. During 1994-1996, Attain Corporation localized and sold the foreign game "Marathon" in Japan. The game received high acclaim and became a commercial success.
However, Attain is never satisfied with its past achievements.Attain is constantly leading the way in corporate activities while considering the present and the future of the industry.
When You Choose Attain, You Will Attain Your Goal!
Are you considering entering the Japanese market?
The innovative advance and the diffusion of networking in the world are furthermore accelerating the globalization of corporate activities. This trend is not only inclining towards Europe and the US, Asian countries and regions including Korea and Taiwan etc., which succeeded in the developing IT industries, are also being diversified. If you can succeed in entering the Japanese market, then the idea of obtaining the large Asian market is not a far-away dream anymore.
If you would like to enter the Japanese market,
consider the following difficulties that you will encounter:
Japan has its special business practices/ distribution channel/ high fixed costs such as labor costs and rent/high requirements for quality and support/high cost for advertising. You must be willing to face these difficulties.
There are a large number of Japanese companies which support foreign companies entering Japan, so you may feel confused on how to choose a proper partner company.
Many Japanese companies only have elementary ideas on supporting foreign business, and their aim is to earn capital. Therefore, it may not match your company's needs if you choose those Japanese companies aiming at stock offering and providing the main service of consulting/ introducing partner companies/ investment etc..
Based on this situation, Attain is taking advantage of the rich experience and the unique know-how that we have been cultivated since our establishment. We are trying our best to provide the necessary support service for the smooth management of cooperate activities.
Localization service in Attain Corporation
A variety of localization while expanding your business to Japan and foreign countries
Multilingual localization of software Chinese, English, Korean ect.
Multilingual localization of web/Site construction, webpage language change etc.
Localization of e-learning/streaming distribution of videos
Others     Please feel free to contact us
Merit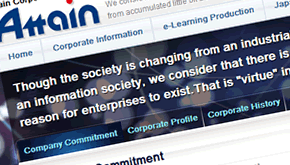 It is a native staff member who translates and double checks, so we can assure the quality of our work.
We have a high skilled production team equipped with rich IT knowledge, so we can accomplish the work in a short delivery-date.
We have our own studio, so we can not only carry out translation, but also provide a consistent service from recording to editing.
Workflow

(If only translating the text)

Submit data
Localize
the
digital contents
Translate the website
Cording
Translation Field

Software translation
Products
Company Homepage
e-learning contents

Price List

Please contact us
We Devote All of Our Energy to Supporting Foreign Companies Entering Japan
Attain provides powerful support for you
by gathering our various solution businesses.
Attain has developed a long-term cooperative relation with foreign businesses by localizing the foreign software. In domestic business, we support foreign companies by our customer solution center which adopted the most advanced CTI system, from market research, customer acquisition, and commodity ordering/order receiving to user support. We provide telemarketing used as our sales forefront which could be called the lifeline of an enterprise, through which we have accumulated good results and rich experiences.
Meanwhile, we provide all kinds of networking support, including network construction, Internet server construction, web application development, streaming distribution of videos and so on. We have accumulated good results and rich know-how on content production, such as web content, multimedia content production, nonlinear editing, DVD authoring and so on.
We make full use of our various business foundations of the relation to foreign companies, production system, and service system. We don't just act as an agent and do consulting, because Attain's biggest characteristic for supporting foreign companies entering Japan is the improved system for meeting all the needs of general business activities.
We provide all necessary supporting service tasks while you expand your business to Japan.
While implementing the support service, we concentrate our energy to operate by making full use of Attain's extensive work menu, experience and know-how. Specifically, we have business location construction, improvement for communication infrastructure, network construction, system construction, site construction, web content production, marketing support, development of market, sales support, commodity ordering/order receiving and user support. In this way, we totally support active business development in the Japanese market.
According to this backup, foreign companies can focus its attention on the core of business specialization, and become possible to enter the Japanese market smoothly, leading to the business success in Japan.
Attain Is Delivering Japanese Culture Contents by Many Languages
We are delivering Japanese culture videos for domestic and overseas in our "How to Japan.tv" channel on YouTube. We have English, Chinese, and Japanese versions of "How to Japan TV", and operate the site by filming in cooperation with companies which want to promote the attraction of foreign tourists/ making process of their Japanese food products and craft products etc.. In "How toJapan tv", the videos are about introducing foreigners to Japanese culture, for example, a sightseeing resort, entertainment, a museum, architecture, traditional handicrafts, the gathering and processing of crops, factory tour, food manufacture, manufacturing experience and so on. "How to Japan.tv" has three versions: Japanese, English and Chinese. Typically, the narrators will introduce the title during the beginning of the video. We would like to present a high quality video to audience.
The person in charge of study management can check participating situation
whenever by the portable mobiles even if there is no computer around.
Besides Multilingualization, Trust Attain for E-learning Production!
We process recorded data into video content and deliver goods however you request, such as by DVD or streaming delivery. We can deal flexibly with TV drama, movie, enterprise VP, E-learning, homepage, flash, and PowerPoint production. We also undertake subtitle editing, subtitle data change while making DVDs. For Chinese, we undertake both simplified Chinese characters and traditional Chinese characters.
Contract
Attain Corporation
Sakai building, 2-19-8, Kandasuda-chou, Chiyoda-ku, Tokyo, 101-0041 Japan
TEL:03-3255-4721 FAX:03-3255-5680
[WebSite] http://www.attainj.co.jp/ [E-mail] info@attainj.co.jp

info@attainj.co.jp
If you have any question or request, please contact us.